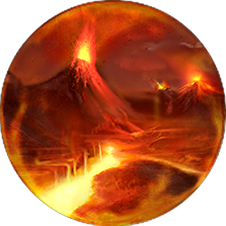 Adept at raining down destruction over large hordes of enemies. With most skills designed to deal damage, the Pyromancer relies on a colossal Earth Elemental to hold the attention of enemies.
Skill Tree
Edit
Below follow all the skills in the Earth Mastery. Click on any skill to learn more.
Mastery Level
Skills
32
24
16
10
4
1
Skill Unlocks
Edit
Skill Summary
Edit
Earth Enchantment (Brimstone - Stone Skin)
Flame Surge (Barrage - Flame Arch)
Heat Shield
Ring of Flame (Soften Metal)
Volcanic Orb (Conflagration - Fragmentation)
Stone Form (Molten Rock)
Summon Core Dweller (Inner Fire - Wildfire - Metamorphosis)
Volativity
Eruption
Mastery Progression
Edit
Trains your mind and spirit in ancient techniques that will enable you to draw power from the Earth and gain mastery over rock and fire.
| Mastery Level | Dexterity Bonus | Intelligence Bonus | Health Bonus | Energy Bonus |
| --- | --- | --- | --- | --- |
| 32 | 48 | 96 | 720 | 192 |
| 31 | 46 | 93 | 698 | 186 |
| 30 | 45 | 90 | 675 | 180 |
| 29 | 43 | 87 | 653 | 174 |
| 28 | 42 | 84 | 630 | 168 |
| 27 | 40 | 81 | 608 | 162 |
| 26 | 39 | 78 | 585 | 156 |
| 25 | 37 | 75 | 563 | 150 |
| 24 | 36 | 72 | 540 | 144 |
| 23 | 34 | 69 | 518 | 138 |
| 22 | 33 | 66 | 495 | 132 |
| 21 | 31 | 63 | 473 | 126 |
| 20 | 30 | 60 | 450 | 120 |
| 19 | 28 | 57 | 428 | 114 |
| 18 | 27 | 54 | 405 | 108 |
| 17 | 25 | 51 | 383 | 102 |
| 16 | 24 | 48 | 360 | 96 |
| 15 | 22 | 45 | 338 | 90 |
| 14 | 21 | 42 | 315 | 84 |
| 13 | 19 | 39 | 293 | 78 |
| 12 | 18 | 36 | 270 | 72 |
| 11 | 16 | 33 | 248 | 66 |
| 10 | 15 | 30 | 225 | 60 |
| 9 | 13 | 27 | 203 | 54 |
| 8 | 12 | 24 | 180 | 48 |
| 7 | 10 | 21 | 158 | 42 |
| 6 | 9 | 18 | 135 | 36 |
| 5 | 7 | 15 | 113 | 30 |
| 4 | 6 | 12 | 90 | 24 |
| 3 | 4 | 9 | 68 | 18 |
| 2 | 3 | 6 | 45 | 12 |
| 1 | 1 | 3 | 23 | 6 |
Classes Made With This Mastery
Edit
Single class mastery:
Cross-class masteries:
Items that add a point to all skills
Edit