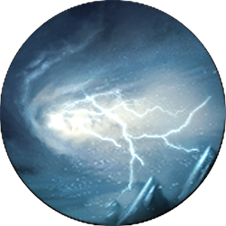 Excels at dealing massive lightning and cold damage to single opponents or small groups. The Stormcaller has limited personal defences but can slow, freeze and stun enemies with frost and thunder attacks.
Skill Tree
Edit
Below follow all the skills in the Storm Mastery
Mastery Level
Skills
32
24
16
10
4
1
Skill Unlocks
Edit
Skill Summary
Edit
Ice Shard (Velocity - Torrent)
Storm Nimbus (Heart of Frost - Static Charge)
Spell Breaker (Spell Shock)
Thunderball (Concussive Blast)
Squall (Obscured Visibility)
Freezing Blast
Lightning Bolt (Chain Lightning)
Energy Shield (Reflection)
Summon Wisp (Eye fo the Storm)
Storm Surge
Mastery Progression
Edit
Provides the mental control and spiritual focus to unfetter your mind of earthly concerns and learn to harness the elemental power of weather.
| Mastery Level | Dexterity Bonus | Intelligence Bonus | Health Bonus | Energy Bonus |
| --- | --- | --- | --- | --- |
| 32 | 32 | 96 | 672 | 480 |
| 31 | 31 | 93 | 651 | 465 |
| 30 | 30 | 90 | 630 | 450 |
| 29 | 29 | 87 | 609 | 435 |
| 28 | 28 | 84 | 588 | 420 |
| 27 | 27 | 81 | 567 | 405 |
| 26 | 26 | 78 | 546 | 390 |
| 25 | 25 | 75 | 525 | 375 |
| 24 | 24 | 72 | 504 | 360 |
| 23 | 23 | 69 | 483 | 345 |
| 22 | 22 | 66 | 462 | 330 |
| 21 | 21 | 63 | 441 | 315 |
| 20 | 20 | 60 | 420 | 300 |
| 19 | 19 | 57 | 399 | 285 |
| 18 | 18 | 54 | 378 | 270 |
| 17 | 17 | 51 | 357 | 255 |
| 16 | 16 | 48 | 336 | 240 |
| 15 | 15 | 45 | 315 | 225 |
| 14 | 14 | 42 | 294 | 210 |
| 13 | 13 | 39 | 273 | 195 |
| 12 | 12 | 36 | 252 | 180 |
| 11 | 11 | 33 | 231 | 165 |
| 10 | 10 | 30 | 210 | 150 |
| 9 | 9 | 27 | 189 | 135 |
| 8 | 8 | 24 | 168 | 120 |
| 7 | 7 | 21 | 147 | 105 |
| 6 | 6 | 18 | 126 | 90 |
| 5 | 5 | 15 | 105 | 75 |
| 4 | 4 | 12 | 84 | 60 |
| 3 | 3 | 9 | 63 | 45 |
| 2 | 2 | 6 | 42 | 30 |
| 1 | 1 | 3 | 21 | 15 |
Classes Made With This Mastery
Edit
Single class mastery:
Cross-class masteries:
Items that add a point to all Storm Skills
Edit